How Can I Become A Piano Tutor?
Over the last 20 years, there has been a rise in the number of young people taking up music as part of their undergraduate degree courses.
This trend has seen the number of college-going kids who have chosen piano as their major for the undergrad degree go up by some 25%. A report published by the Associated Board of the Royal Schools' Music (ABRSM) says that 23% of kids aged 5-14 years play piano and out of these, over 83% seek for a teacher to teach them how to play the piano.
A degree program is the most prestigious route to becoming a brilliant pianist and teacher. A variety of Conservatories, Universities, and State Schools offer music education programs for budding musicians.
If ever there was a chance to make a living out of teaching piano, this is it. There is no competition and very few barriers to entry. In fact, there are hardly any piano teachers around.
So if you are an accomplished musician and love to help others understand the finer points of piano playing, a career in teaching piano is ideal for you. You can conduct your lessons from the comfort of your home, without worrying about going to work every day or catching the train! And even though there is virtually no competition, you can still earn a decent amount of money.
What's more, you can do what you like best – spend quality time with your family while helping children develop their musical skill level. If you want to know more about becoming a piano teacher, here is our guide to doing just that.
What Is The Role of A Piano Teacher?
There are several different types of people who teach music lessons. Some work directly with students, while others work behind the scenes. A few even work both ways. But there are some things that everyone agrees upon. Whether you're looking to learn how to play piano, here are the main duties of a piano instructor.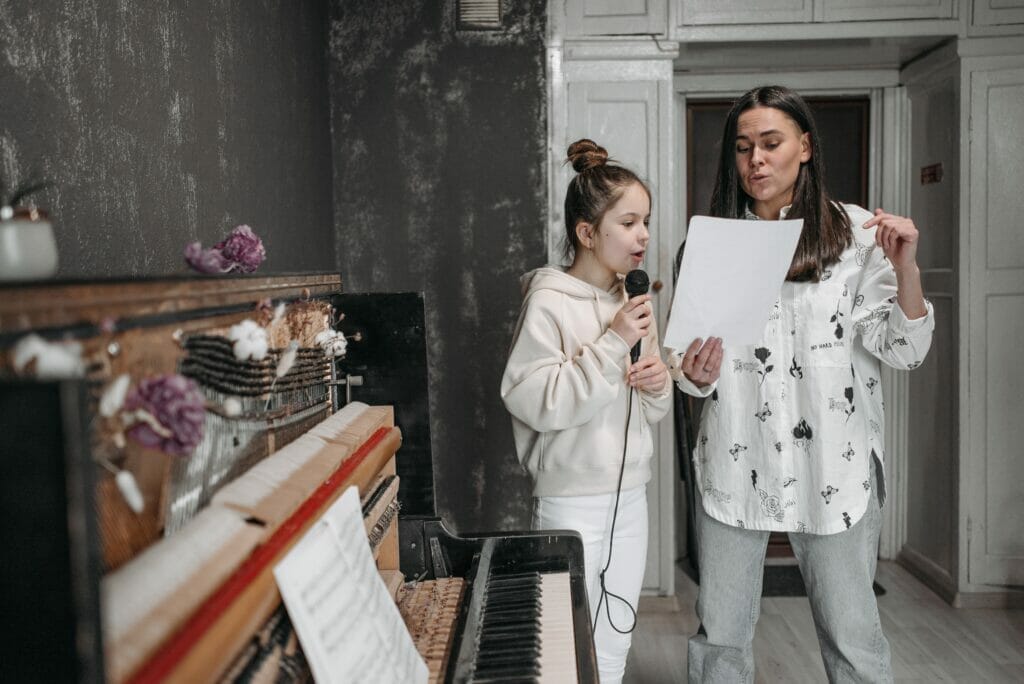 1. They Teach Students How To Play Music
A good piano teacher knows how to break down complex pieces into easy steps. This way, students don't feel overwhelmed when learning to play an unfamiliar piece. When teaching someone how to read sheet music, it helps to make sure that they understand the notes and rhythms. Then, once they've learned those basics, they'll be ready to tackle more challenging songs.
2. They Help Students Understand Theory And Technique
Music theory isn't just something that you memorize; it's actually a language that teaches musicians how to analyze chords, melodies, and rhythm patterns. Once you know the rules, you can use them to write original compositions. If you want to become a better musician, understanding theory is essential.
3. They Work With Students On Their Individual Needs
Some kids struggle with reading music, while others have trouble keeping up with the tempo. In addition, some students need extra help with technique, while others might benefit from additional practice time. As a piano teacher, you'll take care of each student's individual needs. You'll also encourage them to find their strengths and weaknesses, and figure out how to overcome obstacles.
Three Ways To Become A Piano Tutor
Develop Your Piano Teaching Career In Cultural Institutions
For many people, learning to play the piano is a lifelong dream. While it's important to start young, there are plenty of adults who still enjoy playing the instrument, even though they might no longer take formal lessons.
But while private piano lessons can cost hundreds or thousands of dollars per month, cultural institutions like museums, libraries, art centers, and universities often provide free or low-cost piano classes. These organizations don't always focus solely on teaching piano; some offer courses in art history, photography, dance, theater, and other subjects.
In addition to offering a variety of different types of classes, these institutions tend to have a lower overhead compared to traditional schools. Because they're non-profits, they don't pay teachers salaries and benefits, and they generally rely on grant funding and donations to keep running. This makes it easier for them to offer affordable classes to anyone interested.
The good news is that most of these institutions are happy to help beginners find a way into the world of classical music. In fact, they often encourage students to pursue a successful career in piano teaching.
A Degree Program Can Help You Become A Piano Tutor
The most prestigious way to become a great pianist and teacher is through a degree program. While there are many ways to do it, here are some of the best options.
1. Conservatories
Conservatories are schools where aspiring musicians learn how to play instruments. They are similar to colleges, except they focus solely on musical education. Most conservatories require students to attend classes full-time while studying in addition to performing; however, some allow students to study part-time.
2. Universities
Universities are institutions of learning, typically larger than conservatories, but smaller than public schools. Students are required to take courses in subjects like math, science, literature, history, art, etc., and perform regularly. At the end of four years, a student receives a Bachelor's degree.
3. State Schools
State schools are secondary educational institutions, meaning they are less prestigious than either conservatories or universities. However, they are still highly reputable and provide a solid foundation for further studies through formal training. A state school does not necessarily mean a poor quality of education, but rather a lack of prestige.
Take Private Piano Lessons At Home To Become A Tutor
Private lessons are completely unregulated. Anyone and everyone can call themselves "a private piano teacher" and set up a piano tutoring business. But beware, you need to be a seasoned pro at the piano so you're not weaker than your students.
Private piano lessons in your house are also a very effective method for learning and a very attractive option for those looking to develop a career in piano teaching as there are plenty of jobs for former teachers.
The price, of course, will depend on the teacher offering the lessons, but it'll probably be quite affordable considering how much time you'll spend practicing. You'll also be responsible for committing to a lot of practice, which can sometimes be difficult with other responsibilities, like kids, pets, etc.
What Qualifications Must You Meet To Work As A Piano Tutor?
There are no essential qualifications required to offer piano lessons. However, there are certain requirements that you must meet if you want to become a qualified piano teacher. In fact, many people choose to become piano teacher because of their love for music.
If you are passionate about music and wish to teach others, you can easily set up your own home-based studio and charge students to learn how to play the piano.
The only qualification you require is that you must be able to play the piano. To make sure that you possess the necessary skills, you can take piano lessons yourself.
Once you feel confident enough to teach others, you might decide to join a local professional association like the British Association of Piano Teachers (ABPT). This organization offers several benefits to its members, including discounts on instruments and materials, free online courses, and access to resources such as lesson plans and syllabi.
You can even go further and earn a degree or diploma in music, which will help you gain credibility among potential clients. Most reputable music schools offer a degree in music that teaches piano performance, music theory, composition, and orchestration. These programs usually include theoretical studies on music
Resources And Equipment
As a piano teacher who teaches at home, you must have space to teach the students. If you do not have enough space in your house, you must rent out a rented space. This way, you can set up a complete classroom where you can teach the students.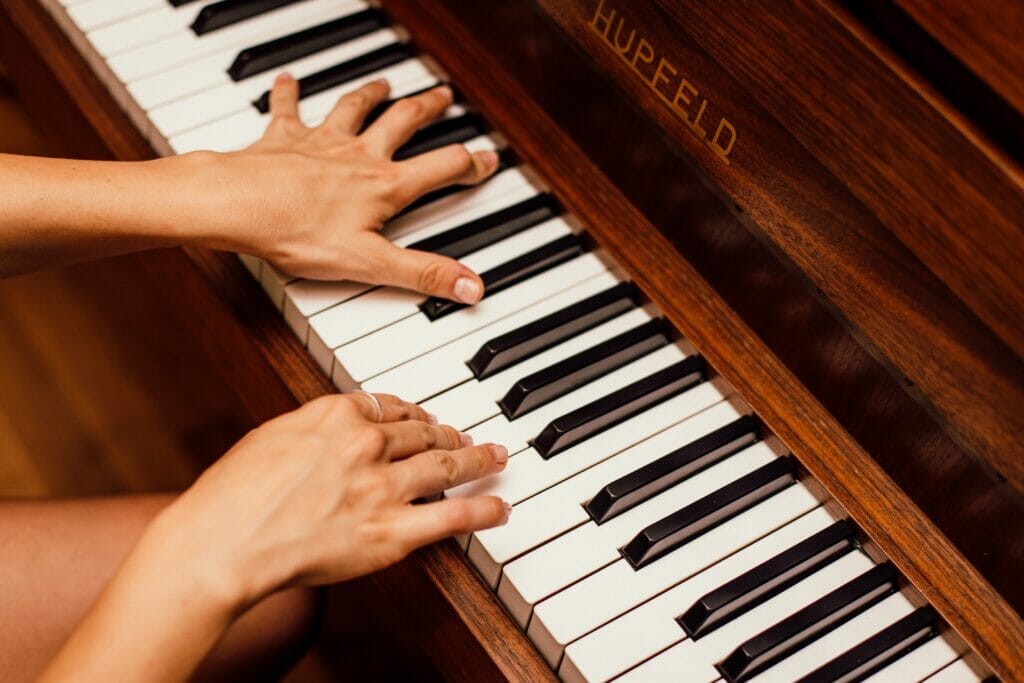 Contrary to what you might think, you can still teach the students without having to purchase expensive equipment. All you need is a single piano. However, you must make sure that the piano is well-maintained and well-tuned to ensure a perfect rendition.
You can even conduct a successful piano lesson using just one piano. To achieve this, you must ensure that there are no distractions like noise coming from outside. Also, maintain a resourceful library of material that you can use while teaching the children.
Ideally, you can include a prescribed piano program in the curriculum for the younger students. Follow the same program while teaching the older ones. You can also incorporate sheet music into the classes.
How To Get A DBS Check to Tutor Piano
If you want to become a music teacher, it is important to obtain a DBS certificate. A DBS certificate is required for anyone who wants to work with children or young people. You must pass a criminal records check, and go through a police interview.
The DBS certificate is obtained through the Disclosure & Barring Service (DBS), which is part of the Home Office. If you decide to start teaching privately, you can choose whether you want to take out public liability and private education indemnity insurance policy.
How Do You Market Yourself As A Piano Tutor?
Most piano teachers are found lacking when it comes to marketing themselves online. They don't know how to use social media websites like Facebook, Twitter, Instagram, YouTube, etc., nor do they understand how to market themselves effectively via email newsletters and blogs.
This leads to an underwhelming performance when it comes to teaching piano students because most of them fail to make much money out of their efforts.
You can start off with a Word-of-Mouth Marketing Campaign, where you act as yourself and inform as many people as you can, about the Piano Lessons you are offering. You can also get Business Cards made to pass them on.
Places like local shops, malls, coffee houses, restaurants, libraries, schools, etc. are good starting points.
Enjoy Your Time As A Piano Teacher
A lot of people think that being a music instructor is just about giving instructions to others. However, it is much more than that.
A good piano teacher must be able to impart knowledge to his/her students in such a way that he/she actually enjoys what he/she is doing. This is because a successful piano lesson depends upon the level of enjoyment that the teacher experiences while instructing his/her students.
A Wife, a mum and a Tutor! I am the Lead Editor at TheTutor.Link & also the Head Tutor there. I love teaching seeing young minds flourish. I also love blogging and sharing my experience on the world wide web.